Zombies, musicians, art events and Nordic Fest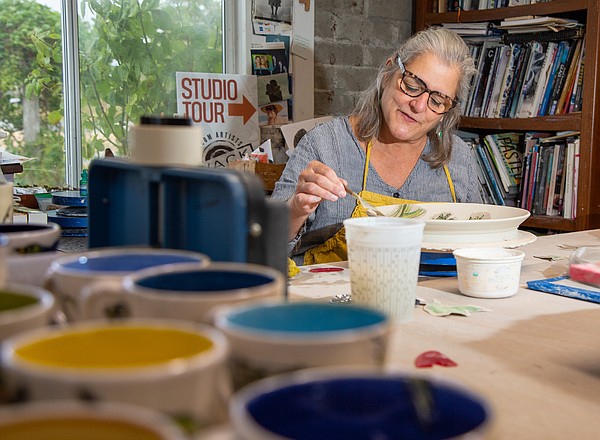 AMY'S PICKS 
Thrillingham
7 p.m. Tuesday, Oct. 31, Trackside Beer Garden, 298 W. Laurel St.
Over the years, I've seen the zombies of Thrillingham dance along to Michael Jackson's iconic song "Thriller" in the middle of Bellingham's Holly Street, at the coliseum at Maritime Heritage Park and during a test run at the Fairhaven Village Green.
This Halloween, the brain-eating, torso-lurching dancers will head closer to Bellingham Bay to join the big party closing out Trackside's season. Organizer Mary Cole told me a number of special guests will kick off the hourlong show, which will culminate in the costumed zombies rising from the dead along to the song that includes sound effects such as creaking doors, howling wolves and thunder.
It's been a few years (thanks for nothing, pandemic) since this event took place, and dancers have been working behind the scenes at Unique Technique Dance Studio to perfect their moves. Show up en masse to support them, and maybe they'll leave your tasty cerebellums alone. Info: Facebook.com/thrillingham. 
An Evening with Patty Griffin and Hayes Carll
7:30 p.m. Wednesday, Nov. 1, Mount Baker Theatre, 104 N. Commercial St.
You'd think I'd be used to it after more than 20 years writing about the abundance — and quality — of entertainment that can be found in Bellingham on any given night, but I'm absolutely not.
Case in point: Two-time Grammy Award-winner Patty Griffin's stint under the spotlight at the MBT this week. I just spent five minutes listening to the folksinger and songwriter's song "Top of the World," and I got chills within the first 15 seconds. 
As icing on the proverbial cake, Griffin will be joined by Hayes Carll, a performer with two Americana Music Awards to his name, plus a Grammy nom for Best Country Song. I'm guessing the lineup will include both solos and duets from the two seasoned performers, and the show should be a memorable one. Tickets are $25–$70. Info: mountbakertheatre.com. 
Sanford-Hill Piano Series
7:30 p.m. Friday, Nov. 3, Performing Arts Center Concert Hall, WWU
In the summer of 2003, Western Washington University professor Jeffrey Gilliam approached philanthropist, author and artist Sibyl Sanford "on bended knee" to ask if she'd be up for sponsoring a piano series at the university. 
Sanford gave the thumbs-up, and ever since then the series has brought top-tier talent to the campus and the community for three concerts a year. In 2011, Sanford's friend and former piano teacher Ford Hill got on board as a sponsor, as well. 
This season's series kickoff features Ukrainian-born pianist Inna Faliks, a performer with a resume so long it could well be a novella. She's known not only for her mastery of standard piano repertoire, but also for projects that delve into genre-bending work with contemporary composers. Works by Bach, Mozart, Liszt and Jan Freidlin — who composed the work just for Faliks — are on the musical menu. Tickets are $20–$51. Info: tickets.wwu.edu.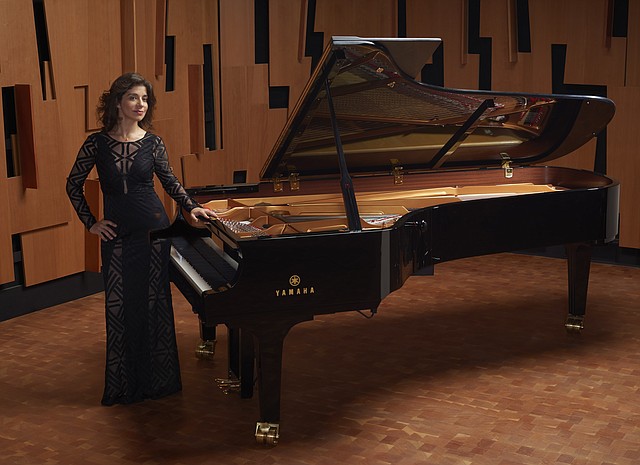 Skagit Artists Fall Juried Show
Nov. 3–5, Christianson's Nursery, 15806 Best Road, Mount Vernon
The members of Skagit Artists really get around. In the spring, they host an Art Bash member showcase in La Conner, in the summer they open up their studio doors for an annual studio tour, and in the fall they host a juried show at the Meadow School House on the lush grounds of Christianson's Nursery. 
More than 30 artists from around the region will have their work represented at this exhibition and sale, which kicks off Friday night, Nov. 3, with a reception and awards ceremony (yes, you're invited). On Saturday, Nov. 4, a silent auction will raise money to support art in the school for local kids, and the event will wrap up on Sunday, Nov. 5. While you're there, check out the Holiday Open House taking place Saturday and Sunday at the nursery. Info: skagitartists.com. 
Nordic Fest
10 a.m. to 4 p.m. Saturday, Nov. 4, Ferndale Events Center, 5715 Barrett Road
At last year's annual event put on by the Daughters of Norway — previously called the Scandinavian Fair — my date and I showed up 15 minutes early to gain admission to ensure we'd be able to score some lefse, a traditional Norwegian flatbread that's made with potatoes. 
We still ended up behind approximately 100 people who were intent on making sure they didn't miss out on the scores of baked goods that are known to disappear from the shelves almost as soon as they're set out. 
Luckily, we got a couple packages of lefse and some other sweet treats. A friend who showed up after noon said scant food items remained, but he scored a lovely hand-knitted sweater and a few other items from the gifts and crafts area, and sat at the Norsk Cafe to watch costumed dancers do their thing. Entry is $5 (free for those 12 and younger). Info: daughtersofnorway.org. 
WACK Studio Tour
11 a.m. to 4 p.m., Nov. 4–5, throughout Whatcom County
In advance of last year's tour hosted by members of Whatcom Artists of Clay and Kiln, ceramic artist Ann Marie DeCollibus invited me into her jam-packed art studio located in a former canning kitchen on her family's property in Ferndale. 
As we perused the numerous pieces — some finished, some waiting to be glazed or put in the kiln — DeCollibus explained that being part of WACK means educating the community about the robust ceramics scene in Whatcom County, something the tour accomplishes.
DeCo Ceramics is one of more than a dozen stops on the tour, which will feature more than two dozen participating artists. Five will be on-site at Baker Creek Ceramics in Bellingham, with others doubling up for the two-day, self-guided tour. If you happen to make it to DeCollibus' space, she said to be aware that fellow artist and event organizer Jennifer Yates is just a couple of "farm blocks" away. Info: whatcomartistsofclayandkiln.org. 
ALL EVENTS 
Thursday, Oct. 26
'The Weir'
7:30 p.m., New Prospect Theatre, 207 Prospect St.
Conor McPherson's "hauntingly evocative" play will be presented by the Sojourner Theatre Cooperative through Sunday, and again Nov. 2–5. The tale begins on a windy night in a pub in a small Irish town. When a pretty young woman who has just moved into a suspected haunted house joins a gathering of locals, things take a turn for the terrifying. Tickets are $15. Info: newprospecttheatre.org. 
'Hay Fever'
7:30 p.m., Performing Arts Center, WWU
This play by Noël Coward shows through Saturday at the PAC's intimate DUG Theater. The production — a cross between high farce and a comedy of manners — is set in the 1920s in an English country house, where four members of the eccentric Bliss family have each invited a guest to spend the weekend. Tickets are $9–$16. Info: tickets.wwu.edu. 
Beach Comedy
8:30 p.m., Beach Cat Brewing Company, 7876 Birch Bay Drive
The monthly stand-up comedy event is back, so if you want to try your hand at making people laugh, sign up on site before the show starts. Timmy Booth will headline the free event. The space is ADA accessible. Info: beachcatbrewing.com. 
Scary Stories to Improvise in the Dark
9:30 p.m., The Upfront Theatre, 207 Prospect St.
This late-night event will feature performers improvising horror shorts inspired by audience members, so come prepared with your own terrifying tale. Tickets are $10. Info: theupfront.com.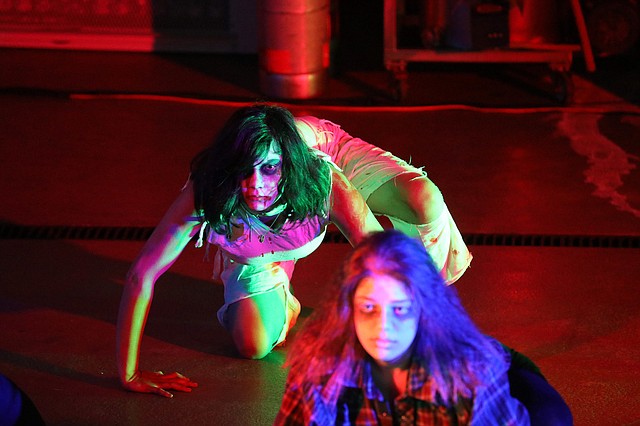 Friday, Oct. 27
Whatcom Frightmare Haunted House
5–9 p.m., Pioneer Park, 2004 Cherry St., Ferndale
Both "light scares" (lights on, monsters dancing) and "full scares" (lights out, anything goes) will be offered at this annual event, which takes place at various times through Oct. 29. Entry is $8 per person or $30 for a group of four. Children under 5 will be scared for free. The venue is wheelchair accessible. Info: whatcomfrightmare.com. 
Fall Festival
6–8 p.m., Cordata Presbyterian Church, 400 Meadowbrook Court
All ages are welcome at this family-friendly event featuring games, prizes, candy, crafts and a cardboard box maze. Costumes are encouraged. Entry is free. Info: cordatachurch.org. 
The Nightmare on Maple
Oct. 27, 28 and 31; 6–11 p.m., Boundary Bay Brewery, 1107 Railroad Ave.
This fundraising event put on by Bellingham Arts Academy for Youth (BAAY) at Boundary's "fear garden" is all ages from until 9 p.m., then will be 21+ and feature more mature content. During the early time frame on Friday, Saturday and Tuesday, Zombie Dancers will also be performing at the nearby BAAY Theatre. Admission is $5 for kids ages 12 and under, $10 general. Info: baay.org. 
'Misery'
7 p.m., Blaine High School, 1055 H St.
Blaine Community Theater opens this play based on Stephen King's novel of the same name this weekend, with additional showings happening Nov. 3–5 at the school's Black Box Theater. The story follows bestselling author Paul Sheldon, who wrecks his car during a winter storm and is "rescued" by his biggest fan, Annie Wilkes. Tickets are $14–$17. Info: blainecommunitytheater.com. 
'The Revolting Teens of Sherwood'
7 p.m., Mount Baker High School, 4936 Deming Road
This take on the tale of Robin Hood features teens who are in revolt but aren't revolting. Expect sword fights and surprises. Tickets are $5–$7 at the door, with showings taking place through Sunday. Info: mtbaker.wednet.edu. 
Circus of Doom
7 p.m., Cirque Lab, 1401 6th St.
Bellingham Circus Guild revives its Beastly Frightful Unspeakably Spooky Circus of Doom, with various performances happening through Oct. 31. Deanna Fleysher hosts the shows, which will offer both family-friendly and cabaret shows featuring more risqué content. VIP tables are also available. General admission tickets are $20–$30. Info: bellinghamcircusguild.com 
Scream Fair Haunted House
7–10 p.m., NW Washington Fairgrounds, 1775 Front St., Lynden
"Horror High" will be the theme of this annual haunted house taking place tonight and tomorrow. Use Gate 2 to find your way to the hallowed halls of hell. Entry is $10–$12, $5 for a return trip. Parental discretion is advised. Info: screamfairhaunt.com. 
Lyric and Spirit
7:30 p.m., McIntyre Hall, Mount Vernon
This "international celebration of women's voices" will feature singer, arts educator and activist Lenna Bahule, who hails from Mozambique. Joining her on the triple bill will be Brazilian singer and violinist Luísa Lacerda and Bangalore, India-born flutist and singer Varijashree Venugopal. Tickets are $33–$43. Info: mcintyrehall.org. 
Hellingham
7:30 p.m. and 9:30 p.m, The Upfront Theatre, 207 Prospect St.
This perennially popular improvised murder mystery shows Friday and Saturday, and on Halloween proper. Each night's show involves audience participation, and the output of each night's mystery is always different. Tickets are $10–$16. Info: theupfront.com. 
Saturday, Oct. 28
Bellingham Farmers Market
10 a.m. to 2 p.m., Depot Market Square, 1100 Railroad Ave.
Approximately 90 vendors from Whatcom and Skagit counties are on site at this weekly market, which continues every Saturday through Dec. 16. Info: bellinghamfarmers.org. 
Fall Family Activity Day
10 a.m. to 4 p.m., Whatcom Museum's Lightcatcher Building and Old City Hall
Stop by for a celebration of all of Halloween's creepy crawly creatures at this daylong event. Start at the Lightcatcher to meet dogs and puppies from the Alternative Humane Society and make braided dog toys and fun animal masks, then head to Old City Hall at noon to make bat launchers, spiders and more. The basement will host an escape room in the old Bellingham jail. Entry is $3. Info: whatcommuseum.org. 
Bellingham Old Town Art Stroll
Noon to 5 p.m., historic Old Town
Support local artists at this monthly event, which takes place on the fourth Saturday of the month at a variety of venues throughout downtown. Participants typically take place at studios in Bay Street Village, Pickford Art Studios, Bay Street Studios and beyond. Entry is free to participate and attend. Info: [email protected]. 
Crave a Beer, Carve a Pumpkin
Noon to 8 p.m., Stones Throw Brewing Co., 1009 Larrabee Ave.
Youth and adults can try their hand at this pumpkin-carving contest. Pumpkins will be lit up on Halloween night, and prizes will go to the top three carvers on Nov. 1. Pumpkins and carving tools will be provided for free. Info: stonesthrowbrewery.com. 
Boo at Bloedel
2:30–5 p.m., Bloedel Donovan Community Building, 2214 Electric Ave.
Children in preschool through second grade are invited to this annual candy-free event. Kids can wear costumes, make crafts and win prizes playing games at the booths. From 2:30–3:30 p.m., organizers will offer a sensory-friendly experience. Limited number of headphones will be available for families to use. Suggested donation is $3. Info: cob.org. 
Bassoon Apocalypse VI
7 p.m., Performing Arts Center Concert Hall, WWU
Western Washington University's Bassoon Studio presents "Hollow Bassoon" — a night full of arrangements of video game and cartoon music and games. Come dressed in costume for a contest taking place during the show. Entry is free and open to the public. Info: cfpa.wwu.edu. 
Subdued Famous Halloween Gala
7 p.m., The Underground, 211 E. Chestnut St.
Bellingham Burlesque Show invites people to this event featuring costume contests, performances, drink specials and much more. Attendees can win a variety of prizes. Tickets are $25. Info: belllinghamburlesqueshow.godaddysites.com. 
Risque Renegades
9 p.m., The Blue Room, 202 E. Holly St.
"Wet Dreams on Elm Street" will be the theme of this nouveau-burlesque cabaret show. The woman-owned, identity-inclusive, body-positive dance troupe aims to defy cultural former and empower freedom of thought and expression. Tickets are $25–$30; bring extra cash for dancers. Info: blueroombham.com. 
Sunday, Oct. 29
Old World Klezmer String Duo
7 p.m. Congregation Beth Israel, 751 San Juan Blvd.
Jake Shulman-Ment and Pete Rushefsky, two of the most recognized names on the international Yiddish music scene, will bring their fiddle and tsimbl music to Bellingham. From dance tunes to old spiritual melodies, philosophical folk songs and virtuosic original compositions, the show will feature a variety of tunes. Tickets are $9–$18. Info: bethisraelbellingham.org. 
Monday, Oct. 30
Guffawingham
8:30 p.m., Boots Bar and Lounge, 1263 Barkley Blvd.
This weekly stand-up comedy show has returned from the ashes and can be seen every Monday. Each show will feature a host, and people can show up early to sign up for a slot on the roster. Info: Facebook.com/guffawingham. 
Wednesday, Nov. 1
'Requiem'
7 p.m., St. Paul's Episcopal Church, 2117 Walnut St.
Dongho Lee will direct organist John Schwandt alongside singers from the St. Paul's Choir and the Bellingham choral community at large to perform Maurice Duruflé's magisterial work. Tickets will be $15–$25 at the door. Info: stpaulsbellingham.org. 
Thursday, Nov. 2
'Steel Magnolias'
7 p.m., Nooksack Valley High School, 3326 E. Badger Road, Everson
A 10-minute play, "Hairdressers Code," will kick off this comedy-drama focusing on the bond among a group of Southern women in Louisiana. Tickets will be $6–$8 at the door to see the production by the school's drama department. Additional showings take place through Sunday, then again Nov. 9–11. Info: Facebook.com/nvhsdrama. 
Friday, Nov. 3
First Friday Artwalk
6–8 p.m., downtown Anacortes
MoonWater Arts, The Majestic Inn and Spa, Scott Milo Gallery (and the studios above the gallery), Squirrelwerks Studio, The Wishing Rock and Ink & Wool will be among those opening their doors for this monthly art event. Entry is free. Info: anacortesart.com. 
First Fridays
6–10 p.m., throughout downtown Bellingham
Check out art exhibitions, events, restaurant specials, performances and more during this event, which features new programming on the first Friday of every month. Info: downtownbellingham.com. 
'The Marriage of Figaro'
7:30 p.m., McIntyre Hall, Mount Vernon
Pacific Northwest Opera will be presenting Mozart's masterwork with four performances of this operatic comedy through Nov. 10. The performers include Metropolitan Opera soprano Katie van Kooten and a cast of brilliant young singers. Tickets are $25–$85. Info: mcintyrehall.org. 
'The Wizard of Oz'
7:30 p.m., Lincoln Theatre, Mount Vernon
Attend opening night of the Theater Arts Guild's take on the story of a Kansas farm girl who travels over the rainbow to discover the magical power of home. The adaptation of L. Frank Baum's will show at various dates through Nov. 19. Tickets are $16–$34; on Nov. 9, all seats will be $12. Info: lincolntheatre.org. 
Saturday, Nov. 4
Craft Fair
8:30 a.m. to 3:30 p.m., Burlington Edison High School Gym, 301 N. Burlington Blvd.
This 32nd annual event will feature more than 100 vendors selling handmade arts and crafts. Food and raffles will be part of the fun. Entry is free. Money raised during the event will support the B-EHS band program. Info: behscraftfair.com. 
Yule Boutique
9 a.m. to 2 p.m., Grace Center at Trinity Lutheran, 2408 Cornwall Ave.
This annual event features a 15-foot-long table loaded with cookies, candies and cakes. Also on display and for sale will be handcrafted gifts, soup mixes, holiday decorations and vintage collectibles. Entry is free. Proceeds from the sale support Assistance League of Bellingham's community programs in Whatcom County. Info: 360-738-2803. 
Dockside Market
10 a.m. to 2 p.m., Fishermen's Pavilion, Squalicum Harbor
Local fisherfolk will be selling their fresh and frozen wares at this twice-monthly market. Visit the dock early to find the best selection of seafood options. Details and participating vendors and products are posted 24 hours ahead of sale days. Info: bellinghamseafeast.org. 
Harvest Market
10 a.m. to 2 p.m. Hillcrest Lodge, 1178 E. Fowler St., Mount Vernon
Mount Vernon Farmers Market will host this seasonal soiree featuring farm-fresh fare and a variety of artisans. The event will be held indoors. Info: mountvernonfarmersmarket.org. 
Holiday Market
10 a.m to 3 p.m., Depot Arts Center, 611 R Ave., Anacortes
Creative Avenue Northwest will host this event featuring more than local local businesses who will have their art, photography and other handmade items for you to browse. Entry is free. Info: creativeavenuenw.com. 
Fall Swing Dance
6–9 p.m., Pioneer Pavilion, 2004 Cherry St., Ferndale
The Ferndale Arts Commission will host this free event with live music from Swing Connection Big Band. Lessons will take place during the first hour. Dress up or dress down, just come to have fun. Bottled water and light snacks will be provided. Info: cityofferndale.org. 
Gallowglass
7:30 p.m., Jansen Art Center, 321 Front St., Lynden
Hear contemporary Celtic folk when this Bellingham band brings its reinterpretation of traditional folk music with a focus on vocal harmonies, unique instrumentation, and compelling arrangements. Tickets are $20. Info: jansenartcenter.org. 
Sunday, Nov. 5 
Bellingham Symphony Orchestra
3 p.m, Mount Baker Theatre, 104 N. Commercial St.
"Rise" will be the theme of this concert celebrating hope and the resilience of the human spirit. Turkish cellist Efe Baltacıgil will be the featured performer; the program will feature Anthony DiLorenzo's "Anthem of Hope;" Fazıl Say's Concerto for Cello and Orchestra, "Never Give Up;" and Tchaikovsky's Symphony No. 6, "Pathetique." Tickets are $15–$52. Info: mountbakertheatre.com
Depot Comedy Night
8 p.m., Aslan Depot, 1322 N. State St.
Rachel Aflleje will host this monthly stand-up comedy event featuring top-tier talent from around the Pacific Northwest. Erin Ingle will also do a set, and headliner Tyler Boeh will bring his big talents to town. Tickets are $20. Info: aslanbrewing.com. 
Before heading out to attend in-person happenings, check with individual venues to make sure the event is still taking place as scheduled.
The A-List appears weekly. To submit an event for consideration, email [email protected].