Tulsa Symphony Orchestra takes audience to a night at the opera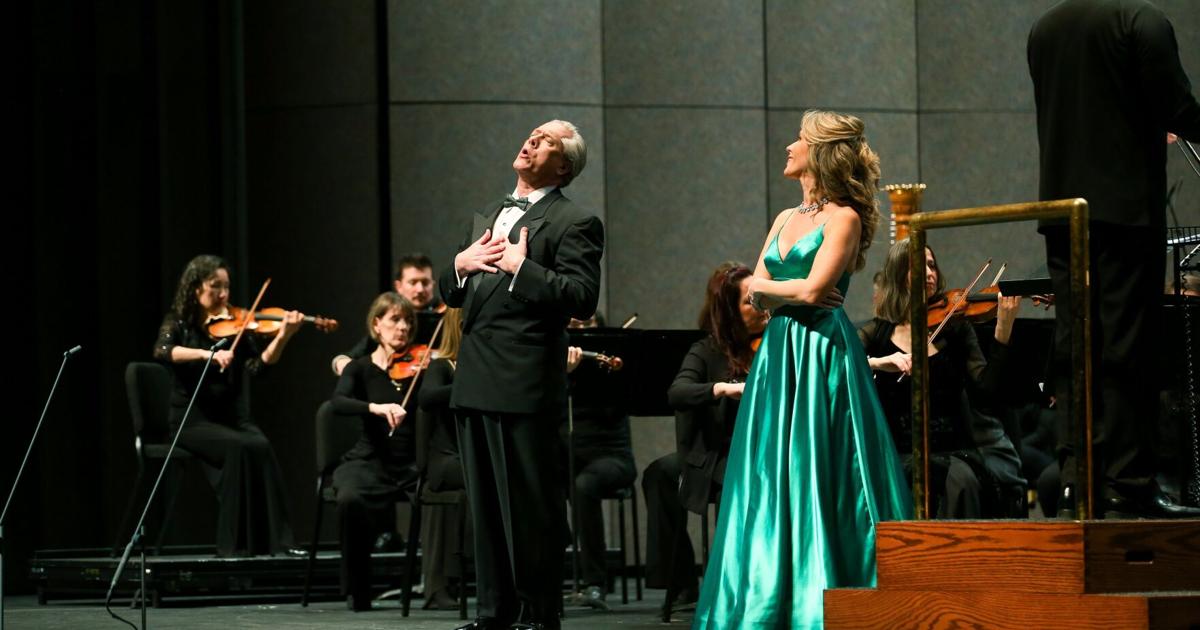 The Tulsa Symphony, with capable assistance of opera stars Sarah Coburn and Stephen Powell and guest conductor Daniel Hege, guided its viewers by a thumbnail background of opera in its "Alluring: An Evening of Opera" concert Saturday at the Tulsa PAC.
The software of arias, duets and instrumental options followed a roughly chronological buy — even though that was the only part about the live performance that could be described as "rough."
Coburn, the Oklahoma native who is a standard performer with the orchestra, and Powell, who was earning his Tulsa debut, embodied these scenes and solos with heartfelt emotion and close to flawless vocal system, as they shifted with clear relieve from the gentle, glowing bel canto coloratura of Rossini's "The Barber of Seville" by means of illustrations of the earthier verismo faculty, and ending with two examples of 20th century American lyric theater.
Persons are also reading…
When the chronological arrangement is an clear way to current these options, it did make some minimal quibbles. For one, the Rossini alternatives — Rosina's aria "Un voce poco fa" and the duet "Dunque io son," concerning Rosina and Figaro — presented the only source of comedy in the evening, which might have been much better appreciated afterwards in the night, as a respite from the typically spectacular and tragic figures.
Also, Powell's incredibly forceful rendition of "Si puo? Si puo?," the opening of Leoncavello's "Pagliacci," would have manufactured for a galvanic opening to the evening, as Powell's character describes how what the audience is about to see is, for all its theatrical trappings, expressions of pure, primal human emotion.
Powell's effectiveness was still highly efficient in opening the concert's 2nd 50 percent and contrasted beautifully with the orchestra's subsequent, and beautiful, performance of the "Intermezzo" from Mascangi's "Cavalleria Rusticana," which serves as a variety of moment out of time, a transient respite of melodic peace amid all those primal feelings remaining operatically offered.
Coburn and Powell did some of their ideal function of the night in the selections from Verdi's "Rigoletto," a operate they have performed collectively in the earlier. Powell dealt with Rigoletto's aria, "Cortigiani, vil razza dannata," with aplomb, as Rigoletto's diatribe against his fellow courtiers evolves from raging anger to bitterness to pathos.
He and Coburn introduced vivid daily life and power to the duet, "Tutti le fest al tempio," as Gilda's confession of becoming drawn absent by Rigoletto's boss posing as a "poor student" drives Rigoletto to vow vengeance.
Coburn also shone in the aria "Mi chiamano Mimi," from Puccini's "La Boheme," her voice total of girlish innocence and wonder, and "Ain't it a Very Night time," from Carlisle Floyd's opera "Susannah," as a young lady in a compact village dreams of what life could be like elsewhere in the entire world.
A little out of chronology was the closing piece, "Lippen schweigen," from Lehar's operetta "The Merry Widow," the preferred waltz amount that also gave Coburn and Powell the prospect for a bit of dancing.
The principal orchestra showcase for the night was selections from Georges Bizet's "Carmen," which showcased some superb solo operate by principal trumpet Timothy McFadden, principal oboe Lise Glaser and principal clarinet David Carter.
Saturday's live performance was also a likelihood for the orchestra to honor community tunes educators, such as Earl "Pete" Peterson, a longtime member of the orchestra's cello section, who was named the 2023 recipient of the Ronald Wheeler Songs Educator of the Yr Award.
Peterson proven the string application at Union Community Faculties and taught there for 35 a long time. He also serves as a conductor for the Tulsa Youth Symphony's Concert Orchestra.
Peterson praised his colleagues in the orchestra and in schooling, together with "the administrators, the college students, the parents — all the folks who have labored to hold audio programs going" in the colleges.
He extra, "I wish I was taking part in this live performance — it's a full lot of wonderful tunes." That it was.