New Jersey arts and entertainment news, features, and event previews.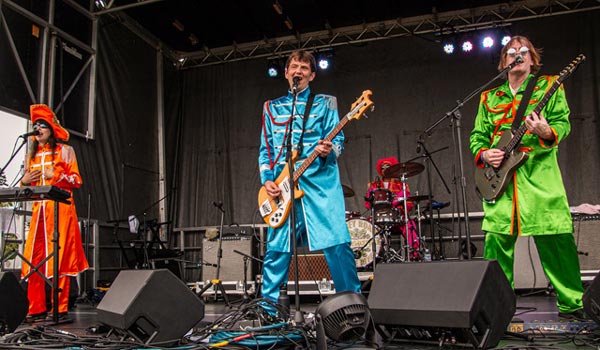 NEWS | FEATURES | PREVIEWS | EVENTS
By Gary Wien
originally published: 07/10/2022
(LAKEWOOD, NJ) — The Wag presents a Beatles Spectacular at The Strand Theater in Lakewood on July 23, 2022 at 7:30pm. The show promises two sets of Beatles music with costume changes. If you love the Beatles, there's nobody who does it better than The Wag. You can even hear some of the band's original music in the night's opening set. 
The Wag performs their Beatles tribute show annually at The Fest for Beatles Fans (the biggest Beatles festival on the East Coast), Abbey Road on the River in Jeffersonville, Indiana (the biggest Beatles Fest in the country), and at many different township functions and private parties.
The show includes songs from throughout the entire run of The Beatles with an emphasis on the Shea Stadium performance era through the "Let it Be" period. "We try to give at least a nod to everything in between," explained Joshua Van Ness. "They covered so much ground in a relatively short period of time!"
Don Lee adds, "Costume changes will reflect general 'eras' of the Beatles' eclectic career, including the famous jackets they wore during their legendary first Shea Stadium concert and even more legendary Sgt Pepper outfits. But the real magic of this show will be in the amazing songs that they created in such a short period of time."
New Jersey Stage spoke with the members of The Wag (Brian Ostering – bass, Alicia Van Sant – keyboard, Don Lee – guitar, and Joshua Van Ness – drums) to learn more about the show.
Advertise with New Jersey Stage for $50-$100 per month, click here for info
---
What is your own personal favorite Beatles song to perform? 
Brian: There are so many to choose from!  I think that I like performing "A Day In The Life" the best.  For a small band, we do a good job of capturing the feel of a full orchestra.  We also surprise a lot of folks with that one!
Alicia: Ooh, that's a hard one. I think for me it's between "A Day In The Life", partially because it's so fun to play, & partially because it always gets such a great surprised reaction from the crowd, & "Norwegian Wood", because of the harmonies. But then there's "Nowhere Man", with its beautiful harmonies…
Don: There are so many great songs to choose from and so my favorites change from time to time. Right now, I'll have to go with their version of "Twist and Shout" (yes, it is a cover song – and they did those very well!). That performance captures the frenetic energy that makes it easy to understand why the hysteria of Beatlemania happened. 
Joshua: That's a tough one.  The thrill of doing a show like this is that there are no bad songs!  "Got To Get You Into My Life" is a fun one for me, as I get to dig into my drums a bit. I also enjoy the dark imagery of "Come Together", not to mention it has one of the coolest drum parts ever composed.  We've been doing a relatively unique version of "A Day in the Life" for a few years now, too.
What's the hardest Beatles song to play that The Wag has ever played?
Don: To capture the essence of "A Day In The Life" live is not easy, but we do pull it off pretty damn well – so much so that we don't just play it at Beatles tribute shows, but in most of our other shows as well (of course, not our annual Christmas Spectacular lol). It has become a Wag staple that people never get tired of having us perform.
Brian: For me, it is "Nowhere Man".  The bass line is all over the place, but the melody is pretty straight forward.  I don't know how McCartney does what he does, but he's awesome at it!
Alicia: For me personally, it's "Eleanor Rigby". I can't even sing backup on that one, because I have to concentrate so hard on the keyboard parts. One day I'll sing backup…
Joshua: "A Hard Day's Night" has some pretty unique chord voicings and Don does an amazing job on the solo, which does not look easy at all.  I have to be careful about the tempo on "I Feel Fine".  If I start too fast I have to hang on for the rest of the song!
Advertise with New Jersey Stage for $50-$100 per month, click here for info
---
The Beatles broke up over 50 years ago; why do you think their music is still so popular today?
Joshua: The Beatles' music has endured because they wrote amazing pop songs that are simple and catchy enough to still be relevant when compared to modern pop songs.  Musically, they combined elements of early rock and roll, R&B, and blues music with elements of classical music and even old show tunes in a way that was complex yet accessible.  My favorite thing about their music was their creativity in the studio.  Along with George Martin, they created sounds and popularized techniques that are still being chased today!
Brian: I think their music is timeless.  You can still relate to many of the lyrics and themes.  And I love the fact that a lot of their music is about love!
Don: The number 1 reason would be because the material was written and produced so well, is extremely memorable, and very varied. Each song has its own identity, even before they started branching out in a multitude of different styles. Luckily, the older generation has passed it down to their kids and so on. And just as fortunately, a large segment of the younger generation loves it – simply because it's great and very easy to fall in love with. I also think that there is a large segment of today's youth that discovers classic music of the past (especially The Beatles catalogue) and gets out of it what is missing from a lot of today's pop music, which tends not to have the originality, uniqueness, and real human feel found in music of the past. I must add that there is a lot of great original music out there today. But you have to search and dig deep to find it. Back in the days when The Beatles ruled the charts, it was omnipresent. 
Alicia: You can't keep a good song down. And so many of their songs were GREAT!! There's no expiration date on great music.
Finally, The Wag has done Beatles styled shows before.  What is it about the Beatles' music that works well with The Wag?
Alicia: We're very influenced by the Beatles, & we love their music. I think our joy in playing their music really comes through onstage, & what could be better than that? Plus, they had 4 lead singers, we have 4 lead singers… and whoever's not singing lead is singing backup/harmonies, just like the Beatles. Not that we're trying to *be* them, but we're trying to honor their music & legacy in our own unique way, whether that's when we do tribute shows to them, just cover a few of their songs at other shows, or in our own original material.
Don: Lots of reasons: The Wag has always been a songs-oriented band – and what better songs-oriented band to emulate than The Beatles. Our band, like The Beatles, has 4 vocalists who can all sing lead, as well as having multiple songwriters in the band. We write catchy and memorable material that will hopefully stand the test of time. We have always had a very upbeat positive attitude in our live performances, much like The Beatles. But also like The Fab Four, we each have our own identity and originality.  
Brian: Besides the fact that we all love The Beatles, I think that having multiple lead singers who all harmonize makes it easier for us to perform the music of The Beatles.
Joshua: Well, I wouldn't dare compare us to The Beatles.  However, we are sort of modeled after them:  4 vastly different people and personalities that have teamed up to make art that we hope is unique.  Like the Beatles, all four of us sing and we certainly all contribute creatively.  Most of all, like so many others, we just respect the music.  We're not afraid to play these classics OUR way, and we're not trying to look like them.  We're just trying to celebrate this amazing body of work, and hopefully be a part of what keeps this music alive for the next 50 years!
---
The Strand Theater is located at 400 Clifton Avenue in Lakewood, New Jersey. Tickets are $20-$25 and available for purchase online. Doors are at 6:30pm.
---
Gary Wien has been covering the arts since 2001 and has had work published with Jersey Arts, Elmore Magazine, Princeton Magazine, Backstreets and other publications. He is a three-time winner of the Asbury Music Award for Top Music Journalist and the author of Beyond the Palace (the first book on the history of rock and roll in Asbury Park) and Are You Listening? The Top 100 Albums of 2001-2010 by New Jersey Artists. In addition, he runs New Jersey Stage and the online radio station The Penguin Rocks. He can be contacted at [email protected].
---