'Crafting an illusion': US rail firms' multimillion-dollar PR push | Ohio train derailment
Six children, smiling and laughing, sit at a table with lunch boxes open in front of them. "Hey guys! My dad can stop a train with his finger," one brags. "My mom can see into the future," another says, holding up her hands as binoculars. "My mom? She speaks train," a third claims.
Just then, her mom walks into the room. Another child asks if it's true that she can talk to trains. "You betcha," she says with a wink, as she stands in front of a sky-blue sign emblazoned with the logo of the Norfolk Southern Corporation.
The kids' conversation takes place in "Everyday Superheroes", a 2018 video created for Norfolk Southern, the $12.7bn operator of the train carrying toxic chemicals that derailed earlier this month in East Palestine, Ohio, causing an environmental disaster of still unknown proportions.
The video, part of an ad campaign called "Reimagine Possible", was produced by RP3, a Maryland-based public relations agency. RP3 said the campaign was designed to reach "policymakers and opinion elites … whose perceptions are vital to Norfolk Southern's success". The people targeted by the campaign "tend to support companies whose leadership helps spur innovation and growth", the agency wrote, explaining in a case study how the campaign was designed to "convince people they're actually innovative".
The PR push is a window into a years-long, multimillion-dollar campaign by America's biggest railroad corporations to win favor among federal regulators and policymakers and push back against calls for tougher regulation – a successful campaign that is coming under closer scrutiny following the Ohio disaster.
Another video, set to its own version of School House Rock's Conjunction Junction, starts with the lyrics: "Norfolk Southern, what's your function? Hooking up the country, helping business run. Trains! They haul everything, safely and on time."
Between 2015 and 2022, the Association of American Railroads (AAR), the trade organization representing large train companies, spent more than $39.4m lobbying the federal government, according to data compiled by the non-profit OpenSecrets. The AAR and its dues–paying members, who include Norfolk Southern, Union Pacific, BNSF and CSX, have also made millions of dollars' worth of political contributions.
But as Norfolk Southern's "Reimagine Possible" campaign reflects, the industry also employs more indirect tactics to promote what the AAR calls "balanced regulation", its euphemism for eliminating mandatory, government-enforced safety standards in favor of voluntary, industry-led oversight.
An analysis by the Guardian found that between 2015 and 2019, the most recent year for which data are available, the AAR paid Subject Matter, a Washington DC-based PR and government affairs firm, more than $23.3m for "paid media consulting + advertising", according to the AAR's annual filings with the Internal Revenue Service (IRS). That sum represents nearly as much as the group spent on lobbying during the same period.
Subject Matter's work for the AAR included "Freight Rail Works", which the agency described as "a comprehensive campaign to help ensure this critical industry remains top-of-mind for Washington DC-area policymakers and influencers". "Transforming for Tomorrow", another campaign produced by Subject Matter, was designed to "showcase the surprising technological advancements that power America's rail network" and "cover all major touchpoints for our DC beltway audience". Neither Subject Matter nor RP3 responded to a request for comment.
According to the AAR's 2019 tax filing, the trade association's "integrated communications campaign" is designed in part to demonstrate "how railroads use modern technology to improve safety and provide public benefits".
As part of its communications push, the AAR has paid for dozens of sponsored articles in the Washington Post and Politico, two publications widely read by the "policymakers and opinion elites" who the group targets with its messages of innovation and self-regulation. Under headlines such as "No need to fix a freight rail system that is thriving" and "How America's freight railroads became great again", the AAR touts its members' impact on the US economy and warns of the consequences of new regulations. Other stories, including "How freight rail is putting the brakes on human error", argue that the industry is already making technology investments on its own, with the implication (and sometimes the explicit connection) that new safety requirements are unnecessary or even detrimental to those efforts.
The rail industry has also spent hundreds of thousands of dollars a year funding GoRail, a tax-exempt 501(c)4 organization that advocates for the railroad industry before local, state and federal policymakers and officials. According to IRS filings, between 2015 and 2019 the AAR gave $2m to GoRail, a sum that represents more than one-fifth of GoRail's total revenue during that period.
GoRail's operations are tightly integrated with the country's largest rail companies, and its agenda is closely aligned with their interests. GoRail's board consists almost entirely of railroad executives and the president of the AAR, and the role of board chair rotates annually among executives from Norfolk Southern, BNSF, Union Pacific and other firms. GoRail and the AAR, as well as Railpac, the AAR's political action committee, all operate out of the same building in Washington DC. Neither GoRail nor the AAR responded to requests for comment.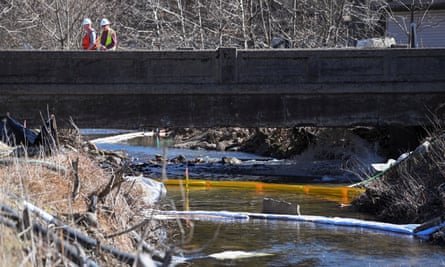 Unlike the AAR, however, GoRail exists to generate grassroots support – or the appearance of grassroots support – for the industry's policy agenda. GoRail's annual reports and IRS filings regularly boast of how many letters it sent to Congress, social media "impressions" it generated and "lawmaker-advocate connections" and "educational meetings" it organized. As a Norfolk Southern executive who chaired the GoRail board wrote in the organization's 2017 annual report, "Via thousands of field meetings with key local influencers annually and a sophisticated media strategy, GoRail's team is able to build the relationships that matter and then utilize these connections to impact policy decisions when it counts."
One policy decision to which the industry remains strongly opposed is a proposal from the Federal Railroad Administration (FRA) to require most trains, particularly those carrying hazardous materials, to have at least two crew members on board. The "train staffing" rule's supporters, including railroad workers and their union representatives, argue that having multiple workers on board makes trains safer to operate and leaves them more capable of responding to accidents when they occur.
Individual companies such as Norfolk Southern and Union Pacific, as well as GoRail and the AAR, have helped lead the industry's opposition to the proposal, frequently using the same arguments that they deploy in their PR campaigns to argue that the rule is unnecessary because of their investments in new technologies.
During a 14 December FRA hearing about the rule, for instance, a representative for Norfolk Southern told the FRA that the company opposed the train staffing requirement in part because it would prevent the company from "redeploy[ing]" conductors from trains to "ground-based role[s]". "Once again technology has supplanted the conductor's traditional safety role," the representative said.
A Union Pacific representative, meanwhile, told the FRA that while the company "has always been, and continues to be, a driver of innovation in this industry", the train staffing proposal "is threatening to take us down the path of obsolescence". A GoRail issue brief makes a similar claim that "Mandating a specific railroad crew is a disincentive to research new technologies".
In quarterly earnings calls and presentations to shareholders, however, the companies suggest that reducing the number of workers on trains is as much about cutting short-term costs as it is about developing new technology or promoting innovation. Even as Norfolk Southern's PR campaign calls its workers "everyday superheroes", over the past two decades the company has managed to cut more than 9,600 jobs while increasing shareholder dividends and stock buybacks by 4,500%, as More Perfect Union recently reported. "Crew staffing of trains … has remained consistent," a company spokesperson told the Guardian in a statement. "Norfolk Southern continues to make substantial progress recruiting new crew members."
"When [companies] think of railroad, they do not think of cutting-edge. They think of cutting crew size and cutting corners to do it," said Vincent Verna, a representative of the Brotherhood of Locomotive Engineers and Trainmen and a former locomotive engineer for Union Pacific, during the 14 December FRA hearing. "Simply cutting the size of the crew for more profits has nothing to do with technology and everything to do with avarice."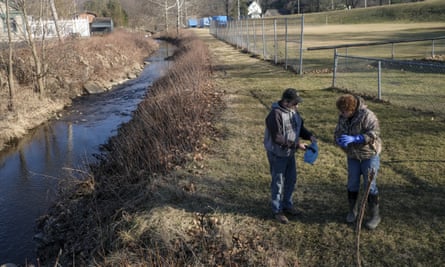 The railroad industry has deployed a similar two-step argument in opposition to other safety proposals, including a rule that would have required trains to use electronically controlled pneumatic (ECP) brakes, as the Lever reported. The publication found that during the Trump administration, Norfolk Southern and the AAR helped defeat a proposal to require ECP brakes on trains carrying hazardous materials – even though ECP brakes were one of the innovations that industry leaders, including Norfolk Southern, had "previously touted" as examples of the industry's technological prowess.
While there is little doubt that railroad companies are indeed investing in and implementing new technology, the industry appears determined to use the idea of technology – as well as the prospect of future technology – to defeat new safety requirements and regulations.
Its approach was summed up in a 2017 blogpost from the PR agency hired by the AAR to "deliver [the] message home to policymakers" that the industry's technology investments are important for the US economy. The agency created a video of a hard hat- and yellow safety vest-clad spokesperson for Freight Rail Works being "cloned" dozens of times. The video's header: "Association of American Railroads: Crafting an illusion to deliver a powerful message".